Published: 01/12/2020
By Allan Fuller
Concerned about how to cook the perfect Christmas roast? Fear not. The Avenue Cookery School is offering a 5 hour 'Easy Christmas Class' course which is sure to banish all your doubts.
There are two dates offered, December 3rd & 9th (book now for 3rd December and receive a 10% discount!). The 'Easy Christmas Class' is festive, fun, hands-on and here to help you master your Christmas roast!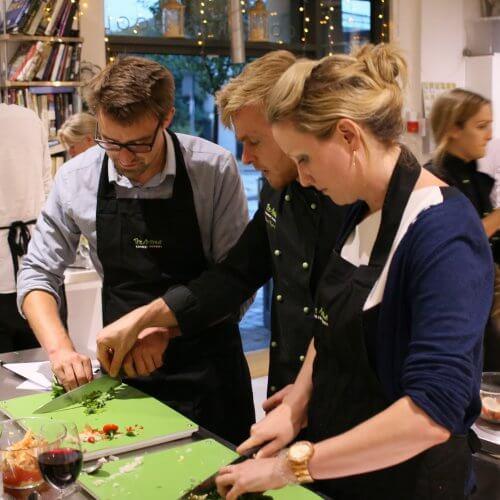 Class Description
Christmas day doesn't have to be so daunting and you'll learn that you can finally spend Christmas Day focusing your time and energy on family, friends and enjoying yourself. Say goodbye to hours of slaving in the kitchen and hello to relaxed festive fun with our Best of British: Easy Christmas Class and bottomless wine! We are masters of prepared cooking and have come up with this class to help you tackle the Christmas kitchen terror!
Our festive class will start with a demonstration on how to cook a traditional Christmas Roast, including (but definitely not limited to) the best crispy roast potatoes and Christmas pudding you have ever laid your tongues on! You will also get to leave with a Christmas Pudding for the big day – one less thing to worry about!
Once the demonstration has finished you will get cooking yourselves – nothing will teach you better than getting your hands dirty!
After a few fun hours of hands-on cooking what will be the easiest and most stress-free Christmas lunch you will have ever made, you'll get to sit down and eat this Christmas creation! After all who only wants Christmas roast on Christmas day!?
After filling your tummies, you will head home to rest and dream of Christmas day!
Not only is this class a fun way to learn how to make your Christmas Roast but also makes for a fun family/friend day out, getting you into that festive spirit!
What We Offer
Fun 5-hour class, whatever your age!
Easy to understand demonstration
Roasting tips and shortcuts
Planning ahead
Hands-on class
Delicious roast at the end of the class
Christmas pudding to take home for the big day!
All facilities, aprons, equipment and ingredients included
Bottomless wine
Recipe booklet emailed to you after the class


Skills Acquired
Confidence in making a Christmas Roast
Carving a turkey
Feeding large numbers
Time management
Cooking in advance
Ability to adapt recipes
Stress free cooking
Having fun while cooking
Best of British: Easy Christmas Class Menu
Pigs in Blankets
Roast Turkey
Roast Potatoes
Celeriac Mash
Bread Sauce
Sprouts with Bacon and Chestnuts
Christmas Pudding
Mince Pies
Brandy Butter
Brandy Crème Anglais
Catered for Allergies: None
Ages Restrictions – under 16's need to be booked with a paying adult – everyone in the kitchen needs to have their own individual paid spot booked regardless of age
'Avenue Amigos' – Get a 'stamp' for each class you book, each review you leave and for each friend you recommend. 10 stamps = a free class!
For details and booking visit The Avenue Cookery School website
here
.