Published: 06/01/2022
By Allan Fuller
We had 16 Degrees on New Year's Eve, compare that with the winter of 1962/3.
The winter of 1962–1963, known as the Big Freeze of 1963, was one of the coldest winters (defined as the months of December, January and February) on record in the United Kingdom. Temperatures plummeted and lakes and rivers began to freeze over.
The Central England Temperature record extending back to 1659, only the winters of 1683–1684 and 1739–1740 were colder than 1962–1963. The winter of 1962–1963 remains the coldest since at least 1895 in all meteorological districts of the United Kingdom.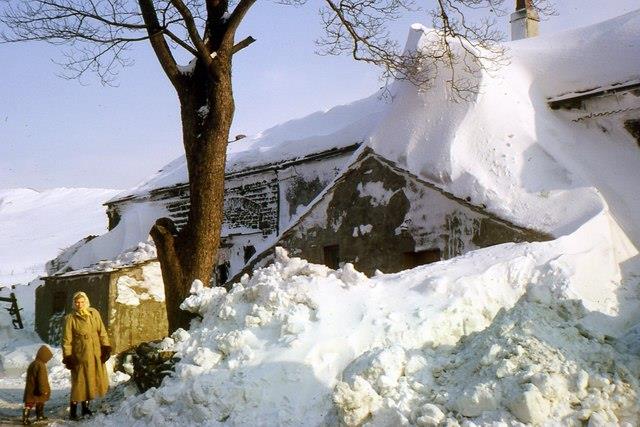 Deep snow near Burrow-with-Burrow, Lancashire, England, January 1963
On 29 and 30 December 1962 a blizzard swept across South West England and Wales. Snow drifted to more than 20 feet (6.1 m) deep in places, driven by gale force easterly winds, blocking roads and railways. The snow stranded villagers and brought down power lines. The near-freezing temperatures meant that the snow cover lasted for more than two months in some areas. Snow was 6 inches (0.15 m) .In January 1963, the sea froze for one mile from shore at Herne Bay, Kent. The sea froze inshore in many places. The upper reaches of the River Thames froze over.
Snow continued to fall in February 1963, which was stormy with winds reaching Force 8 on the Beaufort scale (gale-force winds).
A 36-hour blizzard caused heavy drifting snow in most parts of the country. Drifts reached 20 feet (6.1 m) in some areas and gale-force winds reached up to 81 miles per hour (130 km/h). On the Isle of Man, wind speeds were recorded at 119 miles per hour (192 km/h).
6 March was the first morning of the year without frost in Britain. Temperatures rose to 17 °C (62.6 °F) and the remaining snow disappeared.