Published: 31/03/2022
By Allan Fuller
The students of the Master in Advanced Ecological Buildings and Biocities Institute for Advanced Architecture of Catalonia (IAAC) have designed and built a Solar Greenhouse. The objective was to build a prototype of a small greenhouse that can be installed both in rural areas and on roofs of urban building spaces.
The structure has been manufactured using local wood from the Valldaura forests and includes CLT (cross laminated timber) and GLT (Glue laminated timber) panels for columns and beams. The aim is 'zero Kilometre food production and energy generation, and represents the next step towards a more ecological agricultural transformation and progress in tackling food and energy poverty.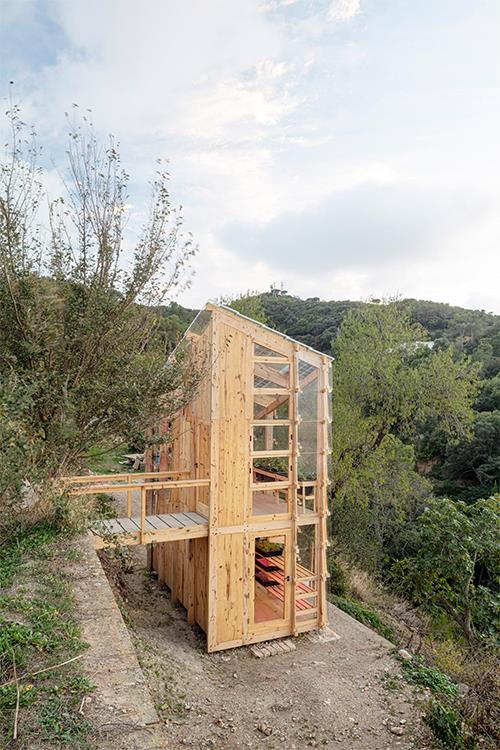 Solar Greenhouse - Energy and Food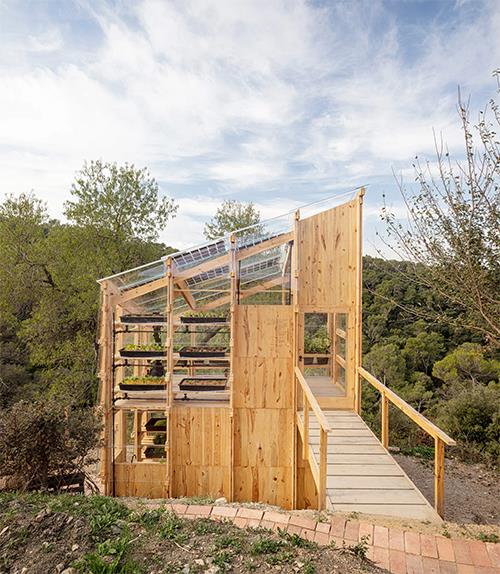 It was constructed using timber.
"The aim was to design and build a system that could be replicated in both rural and urban areas", said the designers.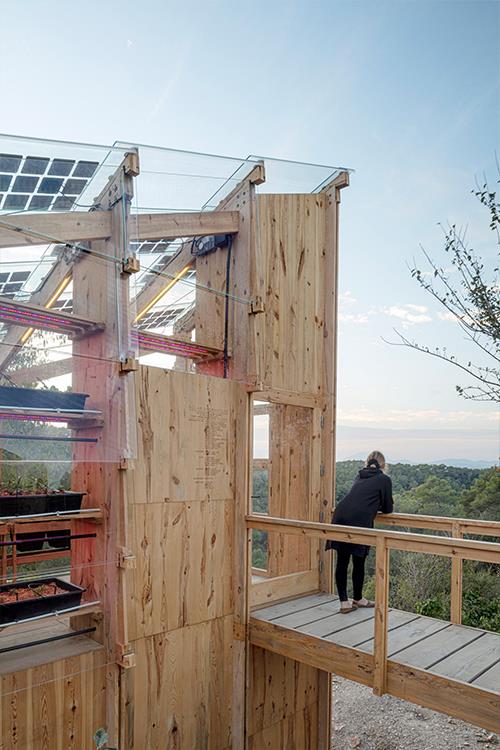 "It represents the next step towards a more ecological agricultural transformation and progress in tacking food and energy poverty."
The structure comprises two levels and features solar panels on its roof. The greenhouse is a simple, timber-framed structure with two levels, topped by glass panels and solar panels and wrapped in glass louvres that provide light and ventilation.
Germination takes place on the greenhouse's lower level, while the upper level contains cultivation spaces, with a glass, diamond-shaped roof maximising its exposure to sunlight. A network of pipes carrying nutrients and lighting for growth cycles is integrated into the structure. Hydroponics allow for plants to be grown without agricultural soil and LED strip lighting aids growth cycles.
The "zero kilometre" concept is normally used to describe food that is produced and eaten locally, and thus has travelled zero kilometres. Here, the philosophy was applied not only to the greenhouse's food production but also its construction, with materials being locally and sustainably sourced.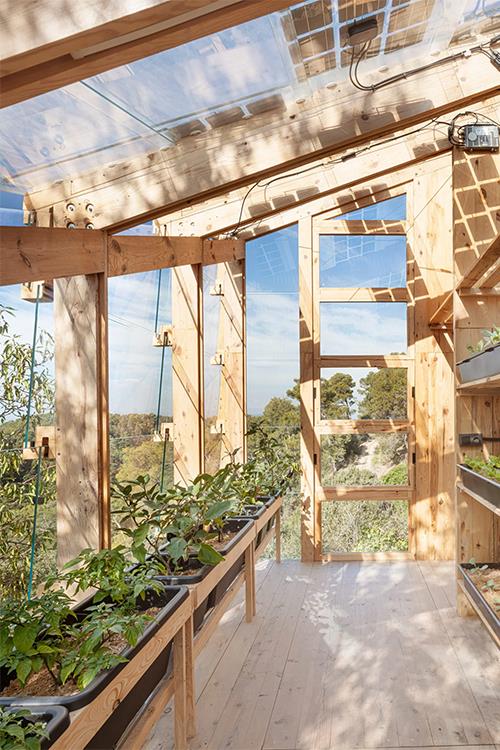 The prototype will be used to grow plants without soil.
The pine for the timber was processed in the IAAC's nearby Vallduara Labs, and the substrate materials in the planting beds consists of recycled sawdust — a waste product of the Green Fab Lab also on the university campus.
"The water, substrate and building materials are obtained from the surroundings, allowing the food grown to jump directly from production to consumption, without the need of a supply chain," explained the designers. "The ultimate goal is for the knowledge and the locally achieved systems to be applied at a global scale and, in this respect, the Solar Greenhouse is a valuable step forward," they continued.