Published: 02/09/2019
By Allan Fuller
Don't throw out your wine corks!
Matthew Barnett Howland with Dido Milne and Oliver Wilton have used cork blocks to build Cork House in Berkshire, England, which is shortlisted for this year's Stirling Prize.

Nestled in the undergrowth beside the River Thames, the dwelling was designed by Howland, Milne and Wilton in response to the architecture industry's impact on biodiversity, greenhouse gas emissions and reliance on single-use materials.

The house comprises five volumes topped by pyramid-like skylights, and is constructed from sustainability-sourced cork blocks supported by timber components. It is designed so that in the future it can be easily dismantled, reused or recycled.

"The Cork House is an innovative and thought-provoking response to pressing questions about the materials that we build with," explained Howland, Milne and Wilton.

"Rather than the typical complex, layered building envelope incorporating an array of building materials, products and specialist sub-systems, the Cork House is an attempt to make solid walls and roof from a single bio-renewable material."

The system relies on expanded cork blocks, which are made from cork granules heated to form a solid building material. These blocks are then cut with interlocking joints to form a "lego-like" modular kit of parts that can be used to self-build solid walls.

Supported by engineered timber, this system negates the need for mortar or glue, and simultaneously provides structure, insulation, external surface and internal finish making it an easily recyclable and reusable structure.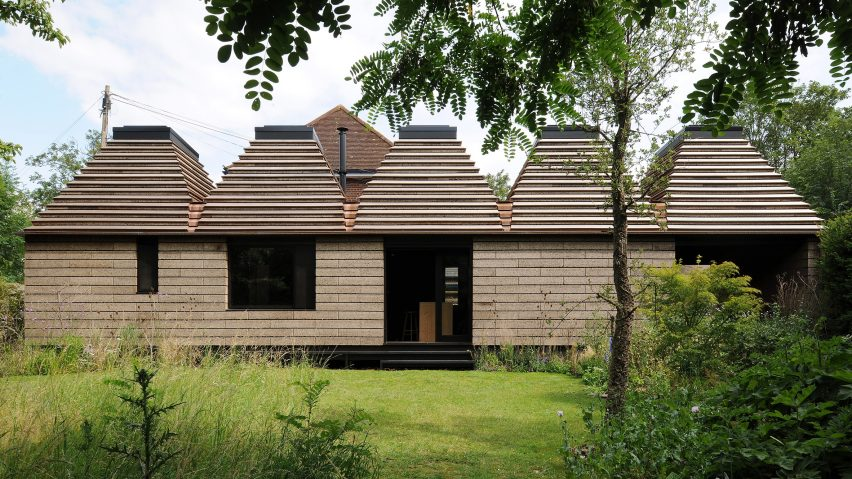 Find out more by clicking
HERE
.