Published: 01/05/2022
By Allan Fuller
A number of local venues are participating in this year's London Square Open Gardens Weekend.

The event unlocks the doors to over 100 unique and hidden green spaces, not normally open to the public, on Saturday 11 and Sunday 12 June 2022.

This year an exclusive range of historic, traditional, contemporary, and experimental gardens from across the capital are taking part in the event. These include formal garden squares and rooftop terraces with commanding views of the city skyline, as well as community allotments and wildlife havens.

In the local area participants include the Roehampton Cub and the Royal Hospital for Neuro-disability.

The grounds of the Royal Hospital for Neuro-disability, located on a stunning elevated West Hill position in Putney since 1863, offer views over north west and south west London. Lancelot 'Capability' Brown and esteemed landscape gardener Humphrey Repton both helped to design the estate, adding to the garden's historical importance and interest. Brown designed an open landscape of grass and trees, a lake and a home farm and his designs are still in evidence today. The grounds include an award-winning cloister garden and several specialist patient sensory gardens and in-memory lavender.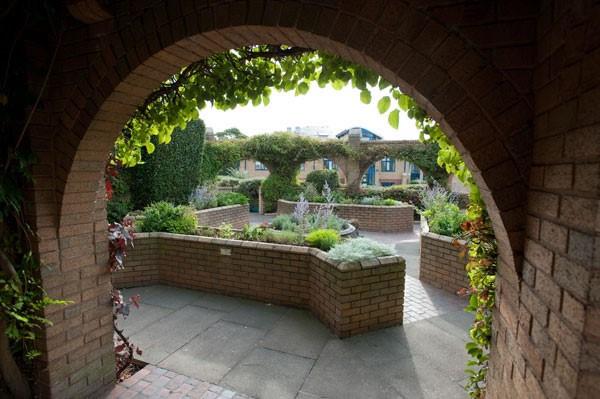 The Roehampton Club gardens were laid out when the Club was established in 1901 and remain at the heart of the estate and retain many of the original features. An appealing vista from the rear of the clubhouse leads through a sunken garden with an ornamental pond to a yew hedge walk, and on to an attractive pavilion. There is a rockery and herbaceous walk beyond a wrought iron gateway, complete with seating bays featuring fig, roses, and wisteria climbers. An adjoining croquet lawn is bordered by shrubs and trees.
Across the rest of London there will be an opportunity to see the stunning Pembridge Square, near Hyde Park; Ladbroke Square; Notting Hill, the historic Lincoln's Inn; Holborn, celebrating its 600th anniversary in 2022, and Montague Street Gardens allowing visitors access to a historic secret garden at the heart of elegant Bloomsbury.
Contemporary space The Ismaili Centre Roof Garden, is a hidden and serene gem in South Kensington whilst Nomura, International plc's roof garden, offers visitors breath-taking views from the south bank of the River Thames. Coutts Skyline Garden gives visitors a unique perspective high above the Strand rooftops overlooking Trafalgar Square.
Weekend tickets give exclusive access to all those taking part whilst historic-themed guided tours, suggested walking routes, and ever-popular cycling tours taking in a selection of the gardens, will also be on offer. There is a balloted entry system in place for tickets to a limited number of the most popular gardens.
Nathan Oley, Chair, London Square Open Gardens, said: "We are delighted to be able to invite members of the public to visit a host of serene gardens and wonderful community spaces across the city for one weekend only. Some have royal and historic stories attached to them whilst others have provided inspiration to generations of Londoners and visitors to the capital. This year, several new places are getting involved for the first time. The profits from ticket sales will help the London Gardens Trust protect some of the city's most valuable green spaces."
The event is organised by London Gardens Trust in partnership with leading residential developer, London Square. The profits help the trust to campaign and protect these vital green spaces