Published: 30/07/2022
By Allan Fuller
Lucy Trench, the Chair of the Sidney Nolan Trust, has unveiled a Putney Society Plaque commemorating the years that the artist lived in Deodar Road in Putney.

Sir Sidney Nolan was one of Australia's most eminent artists, he moved into 79 Deodar Road with his wife Cynthia in 1960 and remained there until 1976. He is probably best remembered for his series of paintings on legends from Australian history, most famously Ned Kelly, the bushranger and outlaw. Nolan's stylised depiction of Kelly's armour has become an icon of Australian art.

During his Putney years he travelled widely and produced works based on his tours in Africa, Antarctica and Asia (particularly China) as well as his frequent visits to Australia. Of particular note were the two large works produced during these years: Paradise Garden made up of 900 panels inspired by a Benjamin Britten cantata and the Snake a montage of over 1,600 heads, blooms and animals that, when seen from a distance, reveals a serpent.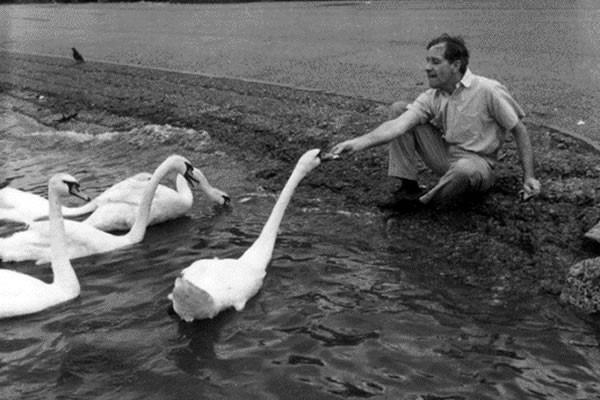 Sidney Nolan on Putney Embankment. Picture: Sidney Nolan Trust
Sidney Nolan has been described by his biographer, Simon Mundy, as a storyteller inspired by landscape and humanity who encapsulated complex schemes in abstract form.
He was also a designer for opera and ballet and in 1961 produced striking designs for the Rite of Spring, choreographed by Kenneth MacMillan for Covent Garden – designs that were still being used in 2013.

The Putney Society thanked the owner of 79 Deodar Road (who, with her late husband purchased the house after the death of Cynthia Nolan in 1976) for allowing it to erect the plaque and for hosting the unveiling ceremony.