Published: 03/03/2020
By Allan Fuller
What you may ask is the connection between the theatre and Nelsons Colum, and no its not this month's quiz question. The answer is that the theatre occupies a building that was originally a Union Chapel built 1860 and designed by Sir Samuel Morton Peto, whose other building works included the famous Reform Club and Nelson's Column.
The Chapel fell into disuse after the congregation joined the United Reform Church in Putney and it was empty for a while.
The theatre was opened in July 1968 and has grown consistently since. Now it has two auditoriums with a wide variety of productions ensuring there is something for everyone.
What's on this month at the local and prestigious Putney Arts Theatre...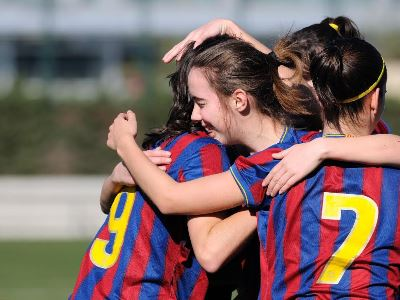 "We're always the same age inside."
Putney Theatre Company presents The Wolves by Sarah DeLappe.
Performance dates: Tuesday 3 March to Saturday 7 March 2020, 7.45pm (main Stage)
Every Sunday, a team of girls meet to play football. We listen to their secrets and their squabbles, from the seemingly unremarkable to the incredibly profound. Growing up is tough, especially in a confusing, fast-moving world. Alone it feels like it might be impossible to fathom, but as a pack, they're fierce.
Disarmingly funny, The Wolves is a portrait of self-discovery and ambition, speaking to the 16 year old in all of us.
First seen in New York, this finalist for the Pulitzer Prize for Drama has been an international hit.
"As exhilarating a 90 minutes as you can hope to spend in the theatre… leaves you breathless." Time Out
"Theatre that keeps you on the edge of your seat" The New York Times
"An astonishing new play. Extraordinary." New York Magazine
"You can't tell your mum the streets are full of psychos and it's pure fluke you get home alive every night."
Putney Theatre Company presents Killology by Gary Owen.
Performance dates: Tuesday 17 March to Saturday 21 March 2020, 7.45pm (studio theatre)
It's only a game! Created from hatred. Designed for aggression. Played for gratification. It's entertainment. But what if it actually stokes the flames?
Shocking, savage yet deeply tender, this Olivier Award-winning drama is a brutal, beautiful bruise of a play. Exploring the cause and effect of violence, it becomes a powerfully emotional drama about fathers and sons and the absence of love.
First seen at the Royal Court Theatre, Killology contains scenes and dialogue that some people may find disturbing.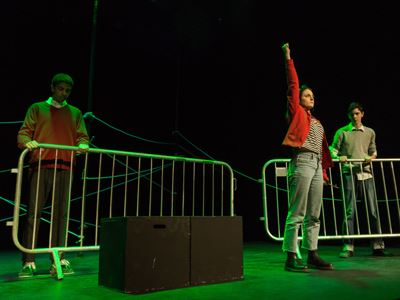 Performed by Group 64's Monday and Tuesday Young Companies of 16- to 19-year-old's.
Performance dates: Wednesday 25 March to Saturday 28 March, 7.45pm (main stage)

Join us for an exciting Double Bill performed by our outstanding Young Companies of 16- to 19-year-old's.
The Companies meet year-round to explore acting, new performance techniques, and ways of creating bold storytelling.
For ages 14+
Monday Young Company will be performing on Wednesday 25 and Friday 27 March, and Tuesday Young Company will be performing on Thursday 26 and Saturday 28 March.

Blue Stockings by Jessica Swale

Thursday 26 March, 7.45pm
Saturday 28 March, 7.45pm

How To Disappear Completely And Never Be Found by Fin Kennedy

Wednesday 25 March, 7.45pm
Friday 29 March, 7.45pm

Nearest tube station: East Putney (District Line, Zone 2/3) which is approx. 5-10min walk to the Theatre. Come out of the station, turn left and you will find the Putney Arts Theatre on the left just a short way after crossing the main junction
Nearest train station: Putney mainline station, with regular trains to Waterloo, Clapham Junction and Richmond. Come out of the station, cross the road and bare left. Walk to the end and turn right at Revolutions Bar (on the corner of Upper Richmond Road and Putney High Street). You will see the Putney Arts Theatre on the other side of the road a short way down
By bus: Routs 430 and 337 both stop almost directly outside the Theatre, while many more (incl. the 14, 85, 93, 37 and the 39) stop outside Putney station
By car: The Theatre has very limited car parking spaces. There is also a very limited number of free parking spaces available nearby. If you are planning to travel by car, please call us first and we will be able to give you more details.
TICKETS
To buy tickets, please visit our Online Box Office. To reserve tickets for an upcoming Putney Arts Theatre Company or Group 64 production, please call the Box Office on 020 8788 6943, or email info@putneyartstheatre.org.uk. For visiting companies, you will need to contact that company's own Box Office
GROUP 64
PUTNEY THEATRE COMPANY