Published: 15/01/2020
By Allan Fuller
What you may ask is the connection between the theatre and Nelsons Colum, and no its not this month's quiz question. The answer is that it occupies what was originally a Union Chapel that was built in 1860 by Sir Samuel Morton Peto, whose other building works included the Reform Club and Nelson's Column. When the building fell into disuse after the congregation joined the United Reform Church it was empty for a while.
The theatre was opened in July 1968 and has grown consistently since. Now it has two auditoriums with a wide variety of productions ensuring there is something for everyone.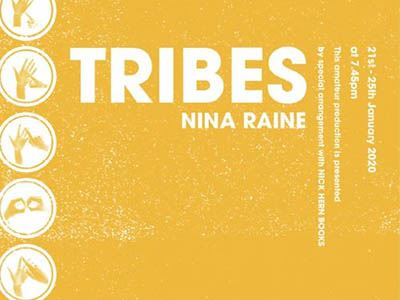 "A common language can bring people together."
Putney Theatre Company presents Tribes by Nina Raine
Performance dates: Tuesday 21 – Saturday 25 January 2020, 7.45pm (studio theatre)
Billy is deaf, born into a hearing family who talk, and argue, a lot. He is the only one who really listens to what they each have to say. When he meets....


Nearest tube station: East Putney (District Line, Zone 2/3) which is approx. 5-10min walk to the Theatre. Come out of the station, turn left and you will find the Putney Arts Theatre on the left just a short way after crossing the main junction
Nearest train station: Putney mainline station, with regular trains to Waterloo, Clapham Junction and Richmond. Come out of the station, cross the road and bare left. Walk to the end and turn right at Revolutions Bar (on the corner of Upper Richmond Road and Putney High Street). You will see the Putney Arts Theatre on the other side of the road a short way down
By bus: Routs 430 and 337 both stop almost directly outside the Theatre, while many more (incl. the 14, 85, 93, 37 and the 39) stop outside Putney station
By car: The Theatre has very limited car parking spaces. There is also a very limited number of free parking spaces available nearby. If you are planning to travel by car, please call us first and we will be able to give you more details.
TICKETS
To buy tickets, please visit our Online Box Office. To reserve tickets for an upcoming Putney Arts Theatre Company or Group 64 production, please call the Box Office on 020 8788 6943, or email info@putneyartstheatre.org.uk. For visiting companies, you will need to contact that company's own Box Office
GROUP 64
PUTNEY THEATRE COMPANY