Published: 03/09/2021
By Allan Fuller
Tecla house is a prototype3D-printed eco-residential building made out of clay. The first model was designed by the Italian architecture studio Mario Cucinella Architects (MCA) and engineered and built by Italian 3D printing specialists WASP by April 2021, becoming the world's first house 3D-printed entirely from a mixture made from mainly local earth and water.. Its name is a portmanteau of "technology" and "clay".
For the building WASP's 3D printing technology Crane WASP was used. It is the first 3D printer that can print from raw earth and is modular and multilevel. It consists of a stationary fixture and two synchronized printer arms that can simultaneously print up to an area of 50 m³ each.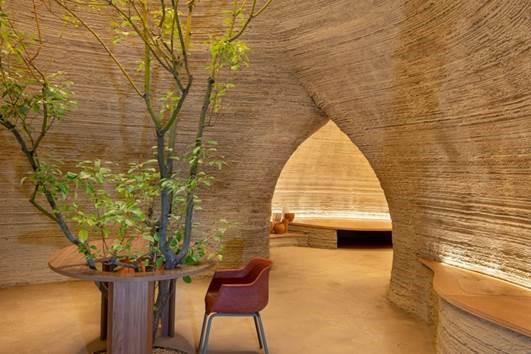 The material consists of local soil mixed with water, fibres from rice husks and a binder. The infilling material for thermal insulation consists of rice husk and rice straw from rice cultivation waste. The house is made up of two modules up to 4.2 m in height, has an area of about 60 m³ and can be built with 200 hours of printing.
The buildings are dome-shaped, have a large glass door and are topped with ceiling-windows.