Published: 04/03/2021
By Allan Fuller
Although not without controversy the new stand at Craven Cottage being built by Fulham FC is an impressive feat of engineering.

Over the last couple of weeks the structure has started to take shape with huge sections of the roof being added.

The new stand will extend nine metres into the river and increase the stadium's capacity to nearly 30,000. The 4,689-seater stand is costing the club £100 million and will include new access along the riverside underneath the stand as well as a new river wall and restaurants and cafes.

Work on the project has continued through lockdown with the engineers making the location by the Thames a benefit rather than a problem. Much of the construction is pre-fabricated off-site and then transported along the Thames with two tugs towing a barge with materials to the site.

55 ton sections of the roof of the stand are being shipped in and then lifted into position by a 400 ton crane.

Marine project manager Paul Day says in a video issued by the club, "We've really taken advantage of the river for a lot of deliveries for this job too, via barge.

"These barges have travelled all the way from the Port of Tilbury, to here, so they've gone through all of central London.

"It's a very big logistical challenge, the first one being the amount of bridges you have to pass. The River Thames is a busy river, so there's a navigational risk, but the real challenge for this project in particular was the overhead clearance (under the bridges for these tows."

It takes a barge two days to pass from Tilbury to Fulham because when the tide is high the vessels can't pass under the bridge.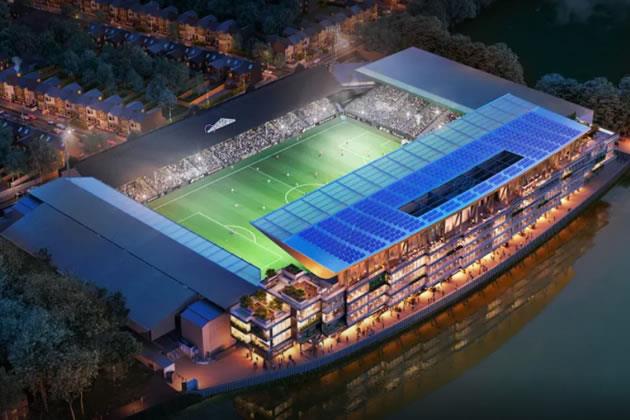 Visualisation of the completed stand. Picture: Fulham FC
Originally the new stand was due to be opened due the course of the 2021/22 season.