Published: 04/03/2022
By Allan Fuller
February's Quiz Question was in two parts:
February's Quiz Question:
What infamous event happened in Chicago on Saint Valentine's Day 1929?
Answer: The St Valentine's Day Massacre
The Saint Valentine's Day Massacre was the murder of seven members and associates of Chicago's North Side Gang that occurred on Saint Valentine's Day 1929. The men were gathered at a Lincoln Park, Chicago garage on the morning of February 14, 1929. They were lined up against a wall and shot by four unknown assailants, two dressed as police officers.
The incident resulted from the struggle to control organized crime in the city during Prohibition between the Irish North Siders, headed by George "Bugs" Moran, and their Italian Chicago Outfit rivals led by Al Capone. The perpetrators have never been conclusively identified, but former members of the Egan's Rats gang working for Capone are suspected of a role, as are members of the Chicago Police Department who allegedly wanted revenge for the killing of a police officer's son.
And
And the second question...
Who is this quy?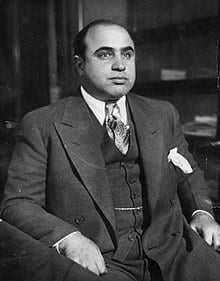 Answer: Al Capone
The photo is of Al (Alphonse) Gabriel Capone, sometimes known by the nickname "Scarface", was an American gangster and businessman who attained notoriety during the Prohibition era as the co-founder and boss of the Chicago Outfit.
His seven-year reign as a crime boss ended when he went to prison at the age of 33. The federal authorities became intent on jailing Capone and charged him with 22 counts of tax evasion. He was convicted of five counts in 1931.
Capone was born in New York City in 1899In his early twenties, he moved to Chicago. Capone expanded a bootlegging business through increasingly violent means, but his mutually profitable relationships with mayor William Hale Thompson and the city's police meant he seemed safe from law enforcement.
Capone apparently reveled in attention, such as the cheers from spectators when he appeared at ball games. He made donations to various charities and was viewed by many as a "modern-day Robin Hood". However, the Saint Valentine's Day Massacre, in which seven gang rivals were murdered in broad daylight, damaged the public image of Chicago and Capone, leading influential citizens to demand government action and newspapers to dub Capone "Public Enemy No.1".
Capone showed signs of neurosyphilis early in his sentence and became increasingly debilitated before being released after almost eight years of incarceration. On January 25, 1947, he died of cardiac arrest after suffering a stroke.
Quiz winner
Congratulations to Marta Lewanska, whose name was picked out of the hat to win February's QUIZ - please email info@allanfuller.co.uk
to arrange the means of receiving the bottles of champagne.