Published: 03/06/2019
By Allan Fuller
For a few days in June you might notice Gentlemen in Morning Suits accompanied by Ladies in particularly glamorous dresses gathering in Putney High Street disappearing into the Station. It is no great secret that their destination is one of the main events of the summer Social Season. Royal Ascot.
Since 1711 when Ascot Racecourse was founded by Queen Ann it has been the premier meeting. Handy for the Queen and Royal Family as it is only 6 miles from Windsor Castle.

The Royal Ascot is the centrepiece of Ascot's year and dates back to 1911 when the week of races in the third week of June became a Royal Week. Every year Royal Ascot is attended by Elizabeth II and other members of the British Royal Family such as The Prince of Wales, arriving each day in a horse-drawn carriage with the Royal procession taking place at the start of each race day and the raising of the Queen's Royal Standard.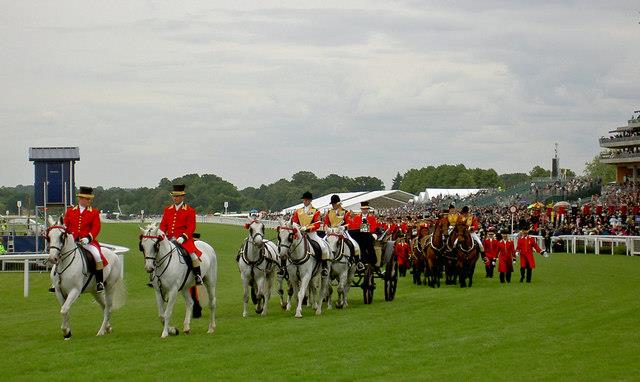 The Royal carriages depart after The Queen's arrival at the races
The Royal Enclosure is the most prestigious of the three enclosures, with recent visits from the Queen and Royal Family members. Access to the Royal Enclosure is restricted, with high security on the day. First-time applicants must apply to the Royal Enclosure Office and gain membership from someone who has attended the enclosure for at least four years. For existing badgeholders, an invitation is sent out by Her Majesty's Representative[9] to request badges. The badgeholder's name is written onto the badge and can be used only by that person. The colours of the badges vary each day for one-day applicants. Those in the Royal Enclosure have the options of fine dining and hospitality, and a selection of bars. The dress code is strictly enforced. For women, only a day dress with a hat is acceptable, with rules applying to the length and style of the dress. In addition, women must not show bare midriffs or shoulders. For men, black or grey morning dress with top hat is required.