Published: 01/10/2020
By Allan Fuller
Olympic Records are trying to track down missing titles from their archive of recordings made at Olympic Studios Barnes 1966-2009
In 1966 Byfeld Hall in Barnes was converted to the Olympic Sound Studios, with room enough to house a 70 piece orchestra. The Rolling Stones were among its first clients, recording six consecutive albums between 1966 and 1972.
Opposite the Olympic Studios and Cinema in Barnes, at 66 Church Road is 'OSR' which opened this summer celebrating the rich music recording history of the Olympic Studios, which is renowned as one of the great British recording institutions. From its opening in Barnes in 1966 until closure in 2009, Olympic Studios hosted everyone from Led Zeppelin, the Rolling Stones and the Who to Madonna and U2 and everyone in-between.
In 2015, the owners of the Olympic Studios agreed to Roger Miles's proposal to be the Studios' first Artist in Residence. Over the residency's three month period, it became clear that there was a need to document the musical history of the Studios through the building of an archive.
Roger said: "Following on from my residency at the Olympic Studios, I have continued to work with the owners to build an archive of the music recorded and mixed at the studios between 1966-2009. When the new owners took over the property in 2013, they took over a shell of a building, bereft of music-related gadgets, studio merchandise and artists' master tapes from the old studios. I have worked with them to produce a definitive list of the 900 plus albums recorded and/or mixed there between 1966-2009 and to date we have acquired 350 vinyl albums from the list."
In addition to hosting the archive and selling iconic vintage albums, new pressings of Olympic recorded music and albums by contemporary recording artists, the shop provides a place for local residents to sell their vinyl collections. The OSR team advises which titles will be most saleable, clean and repair the vinyl and its packaging and research the optimum sale price for each album. Commission on sales will be charged at 30%-50%, depending on the condition and saleability of the albums selected for sale.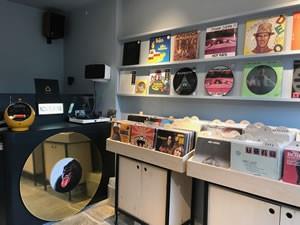 Also, OSR provides a place for music fans to come together to share stories and test their knowledge with fellow music fans. Merchandise and signed memorabilia is available for purchase, along with a small selection of musical and analogue equipment. The store will initially open Saturday to Sunday from 10am to 6pm.