Published: 05/06/2019
By Allan Fuller
The fourth generation of this family business expands from Southfields
Small but special is an apt description of the newest restaurant in Putney; Bosa Lebanese Kitchen on the Lower Richmond Road. The family have spent time and money refurbishing what was a run down corner site into a little piece of Lebanon - with authentic lighting, stone architrave (sourced from Morocco) and intricate wooden doors from Syria to ensure that the atmosphere supports their ideal to bring traditional middle eastern cuisine to the forefront.

They already have a restaurant in Southfields which opened in 2015, Putney is number two and there are plans for a third in Kensington underway.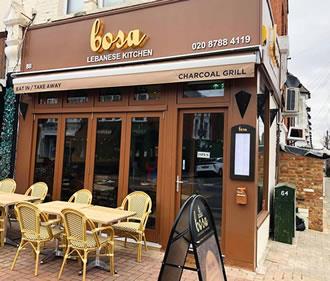 The restaurant was full on Saturday evening, with families with young children and some not so young children and couples of all ages on 'date night'. The smells wafting from the kitchen certainly whetted the appetites.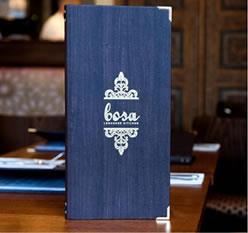 We opted for a large selection of mezze and two in the party opted for a main course as well - be warned portions are generous, but the good thing is that they do takeaway so taking home untouched portions for 'Ron' (later Ron) was no issue and this morning there was nothing to be found in the fridge!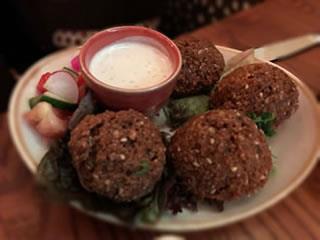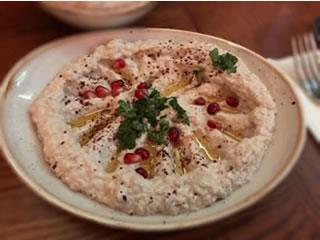 The falafel (£5.95) were divine - crunchy on the outside yet moist and light on the inside and served with tahini sauce, the Moutabal Baba Ganouj (£6.95) with olive oil and pomegranate seeds delightfully more-ish or should that be Moorish?! Lamb is as expected big on the menu from delicate parcels Lamb Samboska (£6.95), Houmous Awarma (£7.50) a smooth rich houmous topped with fried diced lamb and pine nuts to deliciously seasoned Kofta Arayes (£7.50) a pita bread stuffed with minced lamb. To make sure we had 1 of our 5 a day we ordered the ubiquitous chopped salad of the Middle East fattoush, it was just what you need to refresh the palate.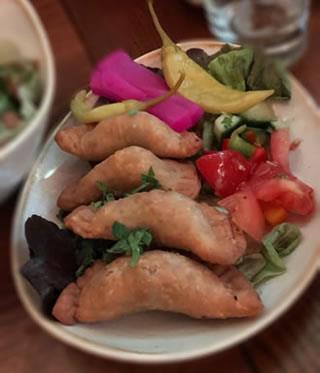 The staff are charming and rightfully proud of the new family venture, offering delicious authentic middle eastern cuisine and with only corkage on the 'bring your own bottles' of wine and beers the evening is not excessive on the wallet.