Published: 02/09/2019
By Allan Fuller
Wandsworth Council has installed low energy eco-friendly LED floodlights on the side of the bridge and under all the arches to illuminate the historic Grade II Listed bridge, so it can be seen in all its glory during the hours of darkness. The bridge was designed by civil engineer Sir Joseph Bazalgette as a five-span structure, built of stone and Cornish granite and was completed in 1886.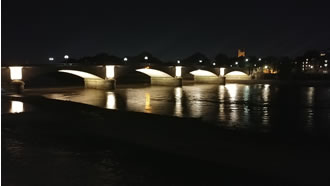 Full Light Up
The Mayor of Wandsworth Cllr Jane Cooper will switched on the lights with the assistance of Putney MP Justine Greening.
The plan to install lights has been discussed for many years, in June 2016 Jim Maddan, who was a Councillor for Thamesfield and Mayor of Wandsworth posted on the Putney forum: "The problem has always been the cost of maintaining them. The technological advances in LED lighting has made that less of an issue. We now believe that we have secured sufficient funding to allow Putney Bridge to be illuminated later this year and that the maintenance costs will be kept to a minimum. More information when we have it."
In response to the confirmation that the lights are finally to be installed on both bridges, a delighted forum member and local resident Vic Condon said: "After all these years with a drab unlit landmark, this will brighten up Putney (& Fulham's) riverside no end! The council should have a Switching on Ceremony as they did 'way back' - with the original lights."
Sadly Mr Maddan passed away in 2017. Cabinet member for transport Paul Ellis said: "This is a historic and iconic London bridge and we agreed that this important gateway to our borough should be lit so people can see just how stunning the bridge looks under the cover of darkness. This has been a project that has had a few technical challenges along the way but it is absolutely fantastic that these have been overcome and we are now in a position to switch on these lights and showcase our beautiful bridge."
Residents who watched the switching on from the Putney side were generally impressed but mixed feelings as to the level of brightness - many felt stage one (above) was "elegant and probably more environmentally friendly" whereas others loved the full effect (main picture).
[Source:
PutneySW15
]