Published: 09/09/2020
By Allan Fuller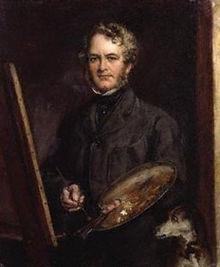 Sir Edwin Henry Landseer (7 March 1802 – 1 October 1873) was an English painter and sculptor, well known for his paintings of animals – particularly horses, dogs, and stags. His best-known works are the lion sculptures at the base of Nelson's Column in Trafalgar Square.Nelsons column in Trafalgar Square was completed in November 1843.
The four lions, although part of the original design, were only added in 1867. Each lion weighs seven tons. A hoarding remained around the base of Nelson's Column for some years and some of its upper scaffolding remained in place. Landseer, had asked for a lion that had died at the London Zoo to be brought to his studio. He took so long to complete sketches that its corpse began to decompose and some parts had to be improvised. The statues have paws that resemble cats more than lions.
Landseer's death on 1 October 1873 was widely marked in England: shops and houses lowered their blinds, flags flew at half mast, and as a mark of respect his lions were hung with wreaths.
This months winner
Congratulations to

Jan Corr

whose name was picked out of the hat to win this months QUIZ - please contact
matthew@allanfuller.co.uk
to arrange the means of receiving the bottles of champagne, which will probably mean when sufficient restrictions have been lifted,but don't worry we will keep it cold for you.