Published: 04/05/2020
By Allan Fuller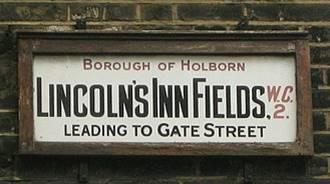 Lincoln's Inn Fields is the largest public square in London. It was laid out in the 1630s under the initiative of the speculative builder and contractor William Newton. The grounds, which had remained private property, were acquired by London County Council in 1895. It is today managed by the London Borough of Camden and forms part of the southern boundary of that borough with the City of Westminster. Lincoln's Inn Fields takes its name from the adjacent Lincoln's Inn, of which the private gardens are separated from the Fields by a perimeter wall and a large gatehouse.

The grassed area in the centre of the Fields contains a court for tennis and netball and a bandstand. It was previously used for corporate events, which are no longer permitted. Cricket and other sports are thought to have been played here in the 18th century.

Much of the property nearby in the later 1700's became home to barristers and lawyers who were attracted by its proximity to the Inns of Court. Now it is highly populated by barristers chambers and solicitors.
This months winner
Congratulations to Mr Graham Duncan whose name was picked out of the hat to win this months QUIZ - please contact matthew@allanfuller.co.uk to arrange the means of recieving the bottles of champagne, which will probably mean when sufficient restrictions have been lifted,but dont worry we will keep them cold for you.