Published: 09/09/2020
By Allan Fuller
The closure of Hammersmith Bridge to vehicular traffic was in April 2019, after that it was only open to pedestrians and cyclists, with on average 16,000 people crossing in this way every day, but even that stopped on the 13th of August this year because of safety concerns about the structure of the bridge.

Large scale protests have just taken place calling for immediate action to be taken to reopen Hammersmith Bridge. More are planned with demands that local councils, Transport for London and the Department for Transport, set out a clear timetable of action to bring this ongoing problem to a resolution.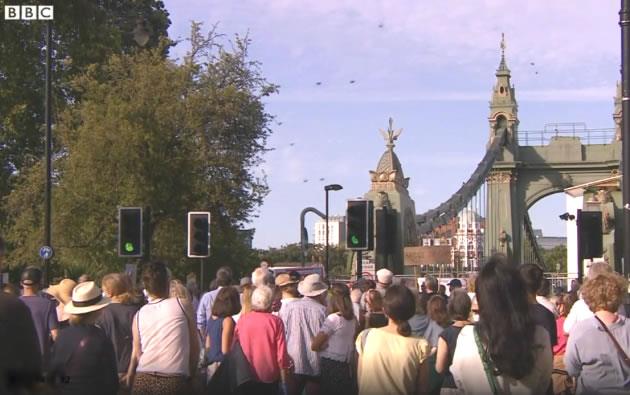 There seems to be little or no news of any plans to repair or replace the bridge, or even make temporary measures. The campaigners have drawn up a list of question they want answered from the various authorities responsible for the bridge. Of Hammersmith and Fulham Council they want an update on the bridge's condition and the plans for a temporary bridge as well as any news of a ferry service that was previously mentioned as a possibility.
Of Richmond Council they want to know what the council will be doing to help residents impacted by the bridge closure. Their questions to the Mayor include how much is left of the £25 million set aside for repairing the bridge and how much was spent on Transport for London's 'Bike It. Walk It' campaign.
Finally, they are asking transport ministers Grant Shapps and Baroness Vere to make good on their earlier promises of quick solutions to the issue.