What our clients say...
---
Fair fees, they know the market, I have used them for a long time.
Professional, approachable and friendly, it was all positive from the first meeting.
Very good, professional, positive and helpful, excellent.
We valued their view and he wrote a glowing report, he was experienced.
With our office situated in Putney, south west London, Allan Fuller Estate Agents has served the local area for over 30 years. As one of the leading Putney estate agents we offer unrivalled expertise and experience of the south west London property market. We have access to the best properties in Putney and its neighbouring areas, including Fulham, Wandsworth and Clapham. So whether you are looking for property management services or to let, rent, buy or sell a property in London, Allan Fuller's is the perfect choice!
About Allan Fuller Estate Agents
---
We are very proud of being old fashioned in one vital respect, the tailor made service and dedication we offer to all of our customers. We know just how stressful property matters can be, so right from the start we aim to provide you with honest and trustworthy advice, helping to ensure that everything runs as smoothly as possible. Our experienced team have the expertise to offer insight, guidance and assistance tailored to your requirements and are here to support you throughout the process of moving.
In every other respect we embrace all the latest technology, our specialist marketing advice along with our longstanding position as Putney's local agent helps to ensure that we generate real results for our clients. Property is our business, but it's people that matter – why not put us to the test now and experience some good old fashioned service?
While the covid19 situation is continuing we are fully functioning and we will respond to all communications via phone and email as quickly as possible. All viewings and office visits are by appointment only and will be adhered to and in line with government guidelines.

So we fully expect to be able to provide a full and extensive service to existing and new customers. If you are looking to purchase or rent a property, or have a property valued and assessed for sale or letting please do contact us. For our hundreds of tenants and landlords just get in touch in the normal way.
Festive Competition
We had an overwhelming response to the competition.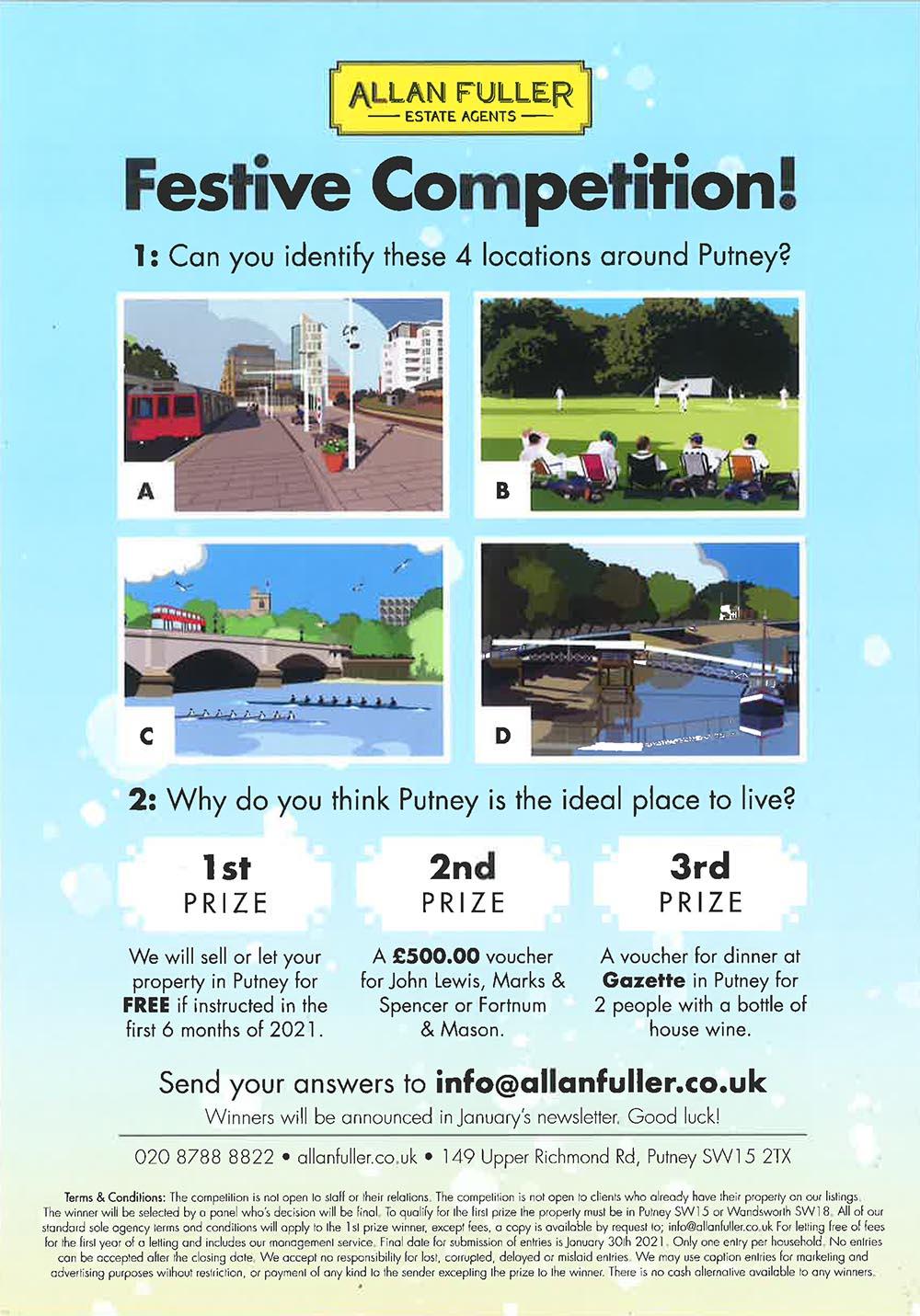 The illustrations clockwise from top left were A. East Putney Station, B. Cricket on Putney Heath, C. Putney Pier, D. Putney Bridge.

It has taken us a while to sift through the entries and reach a consensus of the winners, they are:

1st Prize - Jane 0. for;

From rolling Thames to verdant Heath
Putney shines through every leaf
Fast trains, good schools and lots of space, You'll never find a better place!
2nd Prize - Sophie M. for;
P erfectly
U rban
T antalising
N eighbourhood
E veryone
Y earns for .....
When it came to third prize we had a dead heat, so rather than toss a coin we chose two!
3rd Prize

Mike R. for;

I love Putney because it is a little bit of the city with a country feel!
and Anna K. for;

Putney is the perfect cocktail! Balanced in flavour with so much to do in the area, parks, restaurants and clubs, shopping and much more!

Thank you to everyone else, and look out for this year's competition in December, it might just be your turn to win!
December QUIZ: Answer!
The simple answer to the December quiz is Germany, which is what we were looking for, however its more complicated than that!

Christmas trees originating in Germany associated with Saint Boniface. The custom was developed in medieval Livonia (present-day Estonia and Latvia), and in early modern Germany where German Protestant Christians brought decorated trees into their homes. It acquired popularity beyond the Lutheran areas of Germany and the Baltic area during the second half of the 19th century. Modern Christmas trees originated during the Renaissance in early modern Germany. Its 16th-century origins are sometimes associated with Protestant Christian reformer Martin Luther, who is said to have first added lighted candles to an evergreen tree

Here in Britain, the tradition of decorating churches and homes with evergreens at Christmas was long established, but decorating an entire small tree was unknown here until some two centuries ago. At the time of the personal union with Hanover, George III's German-born wife, Charlotte of Mecklenburg-Strelitz, introduced a Christmas tree at a party she gave for children in 1800. The custom did not at first spread much beyond the royal family.
Queen Victoria as a child was familiar with it and a tree was placed in her room every Christmas. In her journal for Christmas Eve 1832, the delighted 13-year-old princess wrote; After dinner ... we then went into the drawing room near the dining room. There were two large round tables on which were placed two trees hung with lights and sugar ornaments. All the presents being placed round the trees.
After Victoria's marriage to her German cousin Prince Albert, by 1841 the custom became even more widespread as wealthier middle-class families followed the fashion. The rest is history!
Quiz winner
Congratulations to Victoria Savage whose name was picked out of the hat to win December's QUIZ - please contact
matthew@allanfuller.co.uk
to arrange the means of receiving the bottle of champagne.
January QUIZ
How many times has London hosted the Olympic Games?

And for a second bottle, how many days did the longest games last?
Enter for your chance to win two bottles of champagne!