What our clients say...
---
Fair fees, they know the market, I have used them for a long time.
Professional, approachable and friendly, it was all positive from the first meeting.
Very good, professional, positive and helpful, excellent.
We valued their view and he wrote a glowing report, he was experienced.
With our office situated in Putney, south west London, Allan Fuller Estate Agents has served the local area for over 30 years. As one of the leading Putney estate agents we offer unrivalled expertise and experience of the south west London property market. We have access to the best properties in Putney and its neighbouring areas, including Fulham, Wandsworth and Clapham. So whether you are looking for property management services or to let, rent, buy or sell a property in London, Allan Fuller's is the perfect choice!
About Allan Fuller Estate Agents
---
We are very proud of being old fashioned in one vital respect, the tailor made service and dedication we offer to all of our customers. We know just how stressful property matters can be, so right from the start we aim to provide you with honest and trustworthy advice, helping to ensure that everything runs as smoothly as possible. Our experienced team have the expertise to offer insight, guidance and assistance tailored to your requirements and are here to support you throughout the process of moving.
In every other respect we embrace all the latest technology, our specialist marketing advice along with our longstanding position as Putney's local agent helps to ensure that we generate real results for our clients. Property is our business, but it's people that matter – why not put us to the test now and experience some good old fashioned service?
While the covid19 situation is continuing we are fully functioning and we will respond to all communications via phone and email as quickly as possible. All viewings and office visits are by appointment only and will be adhered to and in line with government guidelines.

So we fully expect to be able to provide a full and extensive service to existing and new customers. If you are looking to purchase or rent a property, or have a property valued and assessed for sale or letting please do contact us. For our hundreds of tenants and landlords just get in touch in the normal way.
A Dangerous Place
What is now the A3 was once the Portsmouth Road, and a dangerous place due to the highwaymen who found easy pickings. The Bald-faced Stag was roughly where the Asda Supermarket is today.

Cigarettes at one time came with a variety of cards illustrating various topics, this is part of a set of Pirates and Highwaymen.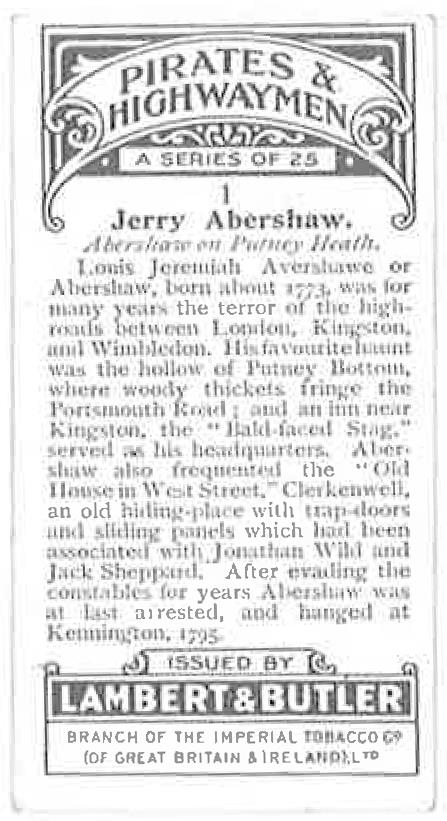 Allan's June Market Update
We have had an incredibly busy time with property sales ever since the Stamp Duty reductions were first introduced last year by Rishi Sunak. Originally the cut-off date to get the benefit was the end of March this year, but due to a large volume of transactions that would have failed to meet this deadline, it was extended to the end of this month. So far, there have been no announcements of whether the previous rates will then apply, or if a different system might be introduced.

It has certainly caused a large increase in property sales, and it will be interesting to see if there has in fact been an increase in the revenue to the Treasury due to the incentive. What it may have done is to bring forward buying decisions and mean that there could be less activity from buyers in the second half of this year.
There have been calls to abolish the tax, but at a time when government needs all the income it can find that is extremely unlikely. Some rationalization however would be welcome, especially if it would involve removing the tax for UK first time buyers.
Hopefully, there will soon be an announcement.
Art in the Age of Now
This a group exhibition that brings together contemporary art, live music, talks and performance art in the Historic London building Fulham Town Hall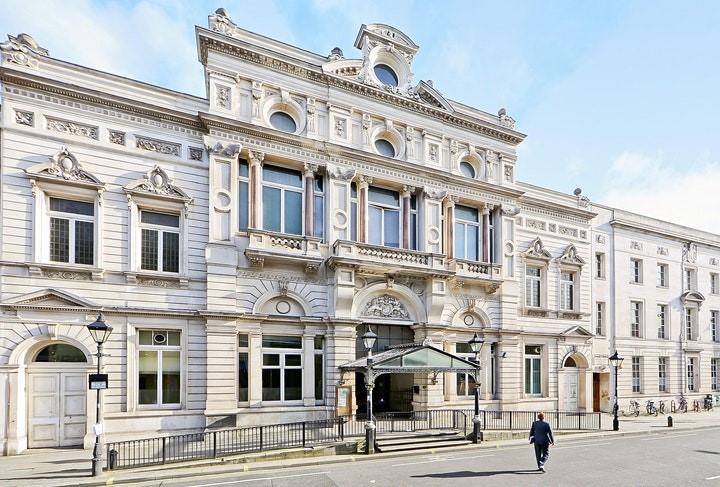 It is opening its doors after lockdown for the first time in a decade as it plays host to 'Art in the Age of Now'.

This iconic, deserted 52,000 sq ft Victorian space in West London, empty for over ten years, will be open to the public. Overseen by curator Ben Moore and co-presented by hotel operator Lamington Group, Art in the Age of Now is a free event for the local community and features an extraordinary programme of installations, guest exhibitions, live performance art, music, talks, readings and screenings in the atmospheric setting of Fulham Town Hall, before owners Ziser property redevelops the building and give the iconic space a new lease of life as a creative, community hub and boutique hotel in 2022.

The exhibition is spread across the grand hall, the ball room, the court room, the mayors parlour, the assembly rooms, the basement vaults, taking visitors on a unique journey of discovery. Many of the works have been produced in isolation during lockdown and will be exhibited for the first time. This will be a platform to support the capital's cultural community after a series of challenging lockdowns and a celebration of local artists and scenes.